Water Taxi Beach: Flee New York in New York
|
It's June and the summer heat is descending on Manhattan and the other four boroughs of NYC.  And sometimes, you don't have the time or money to make a proper getaway or day trip outside the confines of the Big Apple.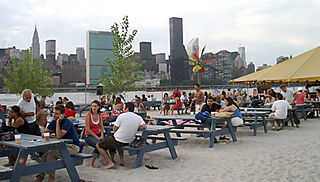 If you're looking for a quick, affordable 4-6 hour respite from the city pavement, you might do well to hop on a city water taxi and head to Long Island City.  Abutting the taxi landing is a real sand beach and bar — complete with a volleyball court, picnic tables, DJs, and of course frozen margaritas —  it's known as Harry's Water Taxi  Beach and offers a great spot to watch the sun set over Manhattan while enjoying yourself in a beach-style atmosphere.  It's popular with the hipster set, but if you go during a weeknight, you can avoid some lines and get a quiet, perfect view of the skyline at sundown.
To get there, just take any water taxi to the Long Island City, Queens stop and you're as good as there!
LINK [NYC Water Taxi Beach]