Adirondack Scenic Railroad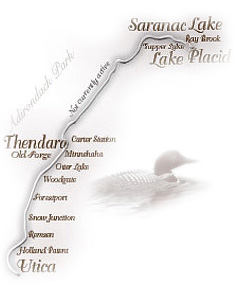 Rail enthusiasts keen to explore the Adirondacks locomotive-style are in luck!  Be sure to check out the Adirondack Scenic Railroad this summer.
This private railroad offers upscale rail trips on a line that runs from Utica up to Lake Placid.
The rail line invites travelers to "Relive the golden age of railroading, a time when wealthy entrepreneurs
like Vanderbilt, Carnegie, J.P. Morgan and Collis P. Huntington built
fabulous wilderness estates in the heart of the Adirondacks. The
Adirondacks played host to the rich and famous on their way to these
Great Camps."
The railroad just finished a wine tasting and train ride promotion for the month of May; they're now running a dinner train during the summer months.  For a complete schedule and tons more information, you can visit their website at the link below.
LINK: [Adirondack Scenic Railroad]