Fall Weekend Getaways From NYC – 2016 Tips & Options
|
List of suggestions and links to plan the perfect fall getaway from New York City. Mountains, beaches, leaf peeping, Oktoberfests, and more.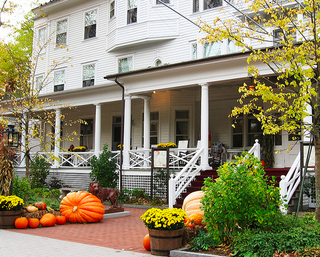 With the inevitable frenzied pace of city life returning to the five boroughs, chances are come late September to mid early November, a weekend escape will loom as a much needed respite in the middle of a churning maw of obligations, events, and demanding work.  Fortunately, the autumn of 2014 offers any number of terrific options for escaping the city for a relaxing weekend to offset the stress of autumn in New York.  Ready to get started?  The Weekend Travel Ideas site has some solid recommedations for the
Best Weekend Spots to get Away From NYC in Fall 2016.
Mountain Escape?
How about the Adirondacks:  If you've never been to this gorgoeus mountain range only hours to the North of the City, then you're in for a great experience.  Fall is a great time to go – with dazzling foliage displays and slice-of-Americana events happening almost every weekend.  The I Love New York has a great intro to Adirondack vacationing.  Start there for great weekend suggestions in Lake Placid, Whitface Mountain, Crown Point, and more.  [Adirondack Fall Getaways – I Love NY]
Mountains not on your agenda?  Why not enjoy what the beach has to offer with these coastal getaways for fall: Start with Timeout NY's list of coastal beach and island getaways.  Some skew slighlty more toward summer, but all have something to offer in any season, including Fall.  [Beach Trips from NYC – Time Out NY]
Of course, Fall foliage is the King of all getaway agendas and planning sessions for those wanting to escape the city during the months of September, October, and November.  The options are close to limitless, with the entire Tri-State area and New England each offering a slightly different take on lustrous leaf peeping.  A good place to start is the smarter travel website, which has an excellent list of affordabel Fall Foliage destinations. [Five Fall Foliage Destinations for Under $500 – Smarter Travel]
In addition, our website has a comprehensive rundown of Fall Foliage getaway and vacation suggestions. It's written in the style of this post and has a rich list of suggestion links to jump-start your search for the perfect destination. [Flee New York Fall Foliage Guide]