New York Wine Month Offers October Getaway and Daytrip Fun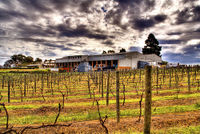 October is New York wine month, and vineyards and wineries from Long Island, to the Hudson Valley, to the Catskills and Adirondacks are offering special promotions and tours all month long.  It's certainly worth identifying some vineyards you'd like to visit this month — as the weather is lovely and the ownership and staff are well-prepared to show you a good time.   Check out the New York Wine Month website for a searchable page of all the participating wineries, vineyards and restaurants around NY state.
Also, the USA Today recently ran a great story on winemaking in the Hudson Valley.  It's worth a read as well.
LINK: [Winemaking roots go deep in the Hudson Valley Soil]
The USA Today piece also included a great video of grape stomping festivities at the Brotherhood Winery in Washingtonville, NY.
Photo: Richard Giles LINK: [New York Wine Month]