A Good New York State Travel Blog
|
We're always on the lookout for New York travel blogs here, and today we found a good one.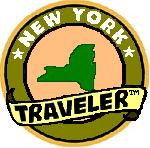 The New York Traveler has some interesting things to say about life and travel in upstate New York.  Need an itinerary for a summer weekend in Albany?  This blog has it.   Looking for the lowdown on Lake George and Fort Ticonderoga?  Look no further.
The same blogger also posts at New York Traveler dot net.  Be sure to check out her Google map mashup of destinations in upstate NY.