Holiday Weekend Getaways From NYC – Escape From New York
|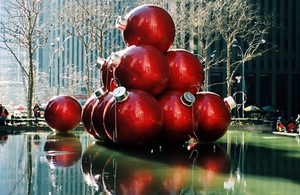 If the prospect of spending another holiday left to the devices of possible snowstorms and traffic snarls on the L.I.E. sounds about as appetizing as dinner at the in-laws, then you're not alone. Probably 8 million of your fellow New Yorkers are thinking the same thing.  At lease once very other year, fleeing New York for a sunnier, or at least quieter, clime is an indispensable part of staying sane during the holiday season in NYC. If you need immediate advice, you'd do well to check out the Weekend Travel Ideas site's list of Holiday Getaways from New York.  
Assuming you can be somewhat flexible in your travel plans, there really aresome amazing destinations available for weekend holiday escapes from the city.  It may not involve travel the Friday before Christmas Eve with a return Sunday nigh, but in some cases even these ideal miss-no-work dates are available to the savvy travel searcher.  Below are some additional resources for coordinating a Christmas, New Year's, or general holiday trip out of NYC.
GoNYC has a list of Easy Daytrips from New York City.
Time Out New York has a great list of New Year's Eve escape plans.
For timely, up-to-date hot tips on getting the heck out of time, you should try the New York Times travel main page.
Or you can browse this site for additional ideas and tips for executing a last minute, or even well planned holiday trip out of NYC.  Happy searching, happy holidays, and don't forget to pack your swimsuit!