Memorial Day Weekend Getaways From NYC – 2019
|
When the Memorial Day weekend 2019 rolls around, tour options are as varied as your desire to slip the surly bonds of the subway and the constant drone of 1010 wins. Get out of New York for Memorial Day.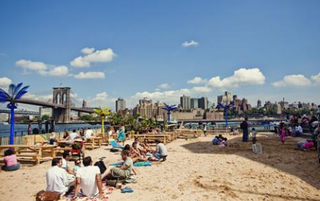 Memorial Day weekend is a choice block of time to extricate yourself from the insanity of the city of New York.  Well, actually any weekend is a great time to do that, but Memorial Day has the benefit of being a three-day-weekend.  An excellent place to start planning your trip is the Weekend Travel Ideas site's list of suggestions geared toward the budget-conscious but tasteful traveler: Memorial Day Getways From NYC.
Other avenues for exploring your various options for Memorial Day weekend abound. If something more refined appeals to you, the Hudson Valley could be a good choice.  Or if you're in the mood for some more downscale celebrating, then the Jersey Shore is just starting to heat up at the end of May.  Of course, these are just the destinations withink driving distance.  Last minute airfare and hotel packages far out of town are another excellent option for making the most of the long weekend.
Below, find our list of top resources for fleeing New York on Memorial Day. They range from comprhensive guides for self-directed research to our hand-selected fare off-the-beaten path gyms around the tri-state area.
The New York Times has a reliable link guide for trips out of town. [NYT]
Time out New York is a rich source of travel ideas for the urban sophisticate. [Time Out NY]
Priceline is already up with their promo page for last minute Memorial Day Weekend deals. [Priceline]
Really want to get random? Yes, there's such things as the Adirondacks polka festival. [Dance Gypsy]
Feeling the original patriotic intent of Memorial Day? The Jones Beach Airshow on Long Island might be just the event for you. [NYAS]
If you're in the mood for some beach excitement and have a Jet Blue frequent flyer account, then you might consider checking out the Urban Fiesta weekend in San Juan, Puerto Rico. [Urban Fiesta]