Time Out New York's Excellent Weekend Getaways List
|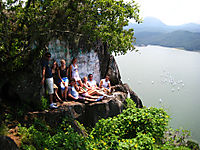 Earlier this summer Time Out NY published a great list of weekend getaways from the NYC areas, and we somehow missed it!
If you've missed it too, you'll definitely want to take a look.  They've organized the list by fairly humorous categories ranging from short day trips to whimsical train rides to full-fledged drives up and down the East coast.
Categories include:
Staycations
Metro North getaways
Hamptons destinations
Eastern seaboard stops
Day trips
God's Hideaways
The list is playfully voiced, but includes some gems we hadn't heard of yet — like the world's "smallest church" in Oneida and and the "small boat shop" in Norwalk.  And that's just the small stuff!  Head over and check out the list if you're in need of some weekend trip suggestions you can't find here on Flee New York.